Teilen
BIERZEUG presents the can lamps in a gift set - sustainable, decorative and unique.
Handmade and unique oil lamps upcycled from the most beautiful craft beer cans.
Individually or in a high-quality gift set including lamp oil. The decoration and gift idea for beer lovers and connoisseurs - a real eye-catcher!
We select the most beautiful, unusual or well-known craft beer cans and give them a second life as a decorative and high-quality oil lamp that can be refilled over and over again.
We currently offer craft beer cans from these brands:
BRLO (Germany)
Bevog (Austria)
Lowlander (Netherlands)
Brewdog (Scotland)
Amundsen (Norway)
Lervig (Norway)
Magic Rock - Cannonall (England)
Beavertown (England)
Corona (Mexico)
Sierra Nevada (USA)
Stone (USA)
...or simply be surprised :-)
☝ Please specify your desired style when ordering. If you want a specific can of a brand, please specify when ordering. We try to fulfill requests based on availability. You are also welcome to send us your favorite cans and let us convert them. Just send us a message in advance with a picture of your cans.
☆☆☆ Rarity: Our can lamps have a child safety lock according to ISO standards and a metal wick snuffer. For better stability, the cans are prepared so that they are easy to handle and are therefore very durable. ☆☆☆
!!! Used cans are sterile cleaned and packaged !!!
In addition to the ecologically valuable upcycling, we also pay attention to materials from sustainable or regional production with high quality standards. We ship climate-neutral and in recycling packaging.
✓ The lamp oil container is made of stainless steel and is placed firmly in the can. It can be refilled again and again with 0.07 liters of lamp oil. One filling is enough for several hours of burning time. The burner head can only be unscrewed by simultaneously pressing it. This prevents children from getting to the lamp oil or accidentally drinking it. Thus, the can lamps are childproof according to the DIN standard. Other advantages over loosely suspended wicks are that if the lamp accidentally tips over, almost no oil can escape and it is more windproof.
✓ The supplied fiberglass wick has a thickness of approx. 8mm and burns for a very long time with very little soot. The height of the flame can be adjusted via the height of the wick in the burner head.
✓ The empty cans are stable and handle-proof and can be refilled with lamp oil again and again.
The can lamp is best used outside on the balcony or terrace. Outside, the flame also withstands the wind much better than unprotected candles. By refilling with lamp oil, it will give you many cozy hours and be a real eye-catcher.
+++ TIP: Check out our
craft beer oil lamps
and
craft beer soap dispensers
made from upcycled bottles. +++
Safety instructions:

Do not touch burner after lighting.
Only use oil approved for oil lamps.
Do not add oil while the wick is still burning, smoldering or the lamp is hot.
If possible, always use the same lamp oil (paraffin oil burns best) or change the wick after changing.
Never leave the lamps burning unattended and keep them away from combustible materials.
Always keep oil lamps out of the reach of children and pets. Lamp oil is poisonous!
Do not use in closed rooms or in draughty places.
Use only when stable and on level ground.
Stop using containers for drinks and stop consuming lamp oil.
The wick should not come into contact with water.
Only fill the container up to a maximum of 3/4 with oil to prevent it from escaping when it is hot.
DISCLAIMER: We have nothing to do with the registered trademarks of the manufacturers. Only the companies' empty containers were used for upcycling. The brand names listed and the designs of the manufacturer's and product's containers are only used for identification and are the property of the manufacturer. Explicitly pointing out that it is empties from the companies mentioned. Slight signs of use can therefore not be ruled out. All conversions have been carried out by BIERZEUG by hand and are not from the named company.
Materials: metal
Versand & Rückgabe

Ab 2,99€ in DE.
Ab 69€ Bestellwert gratis in DE.
30 Tage Rückgaberecht.
View full details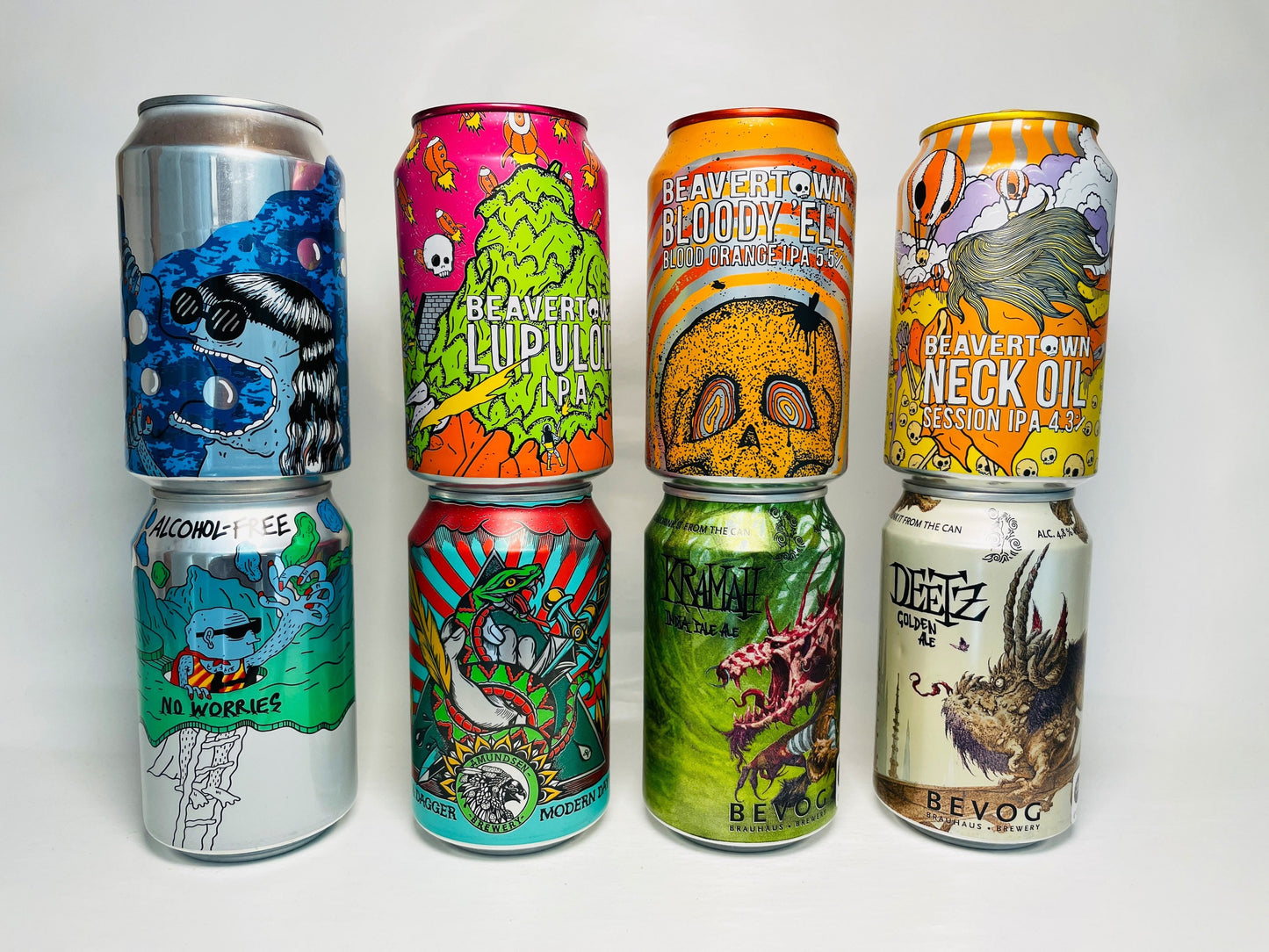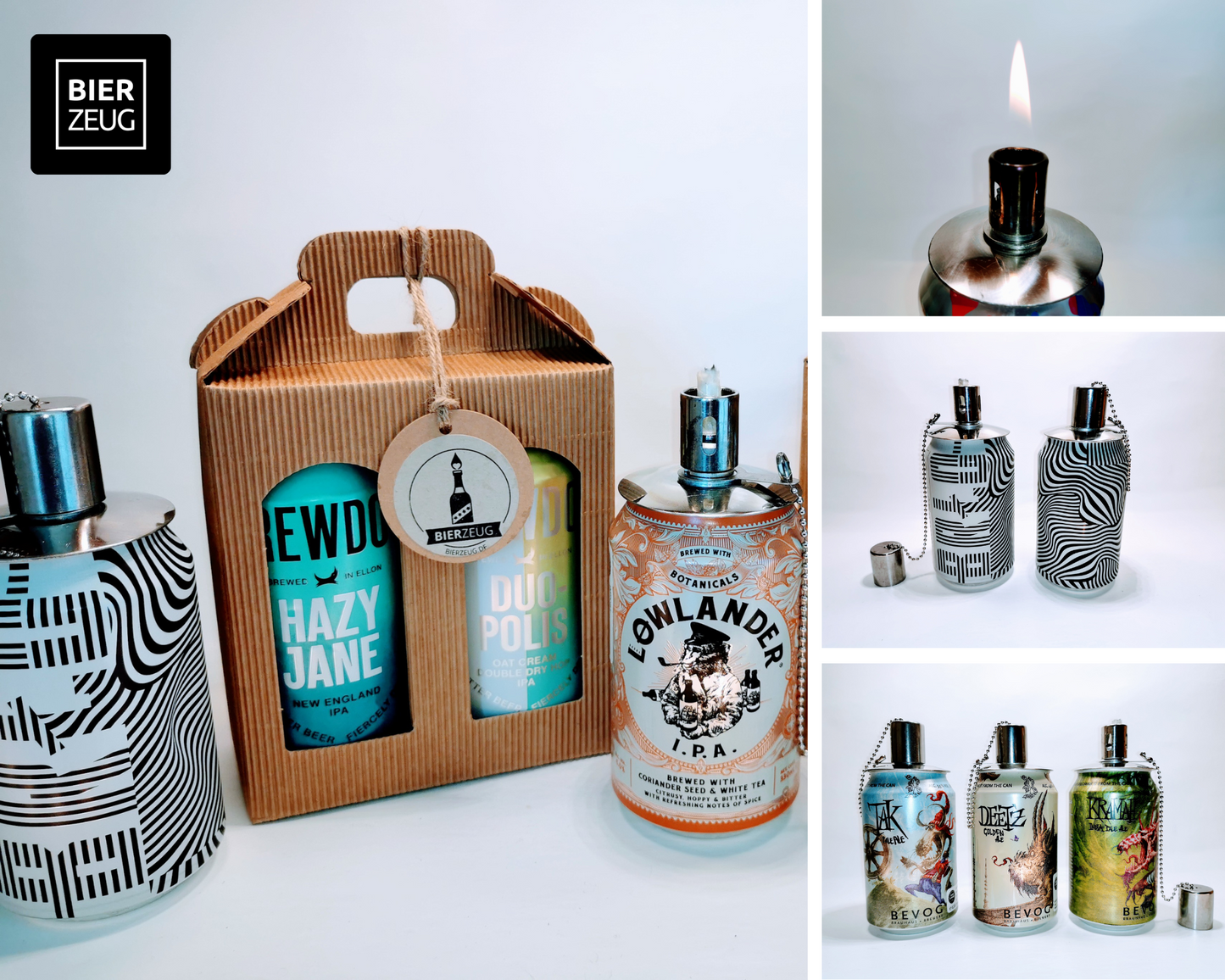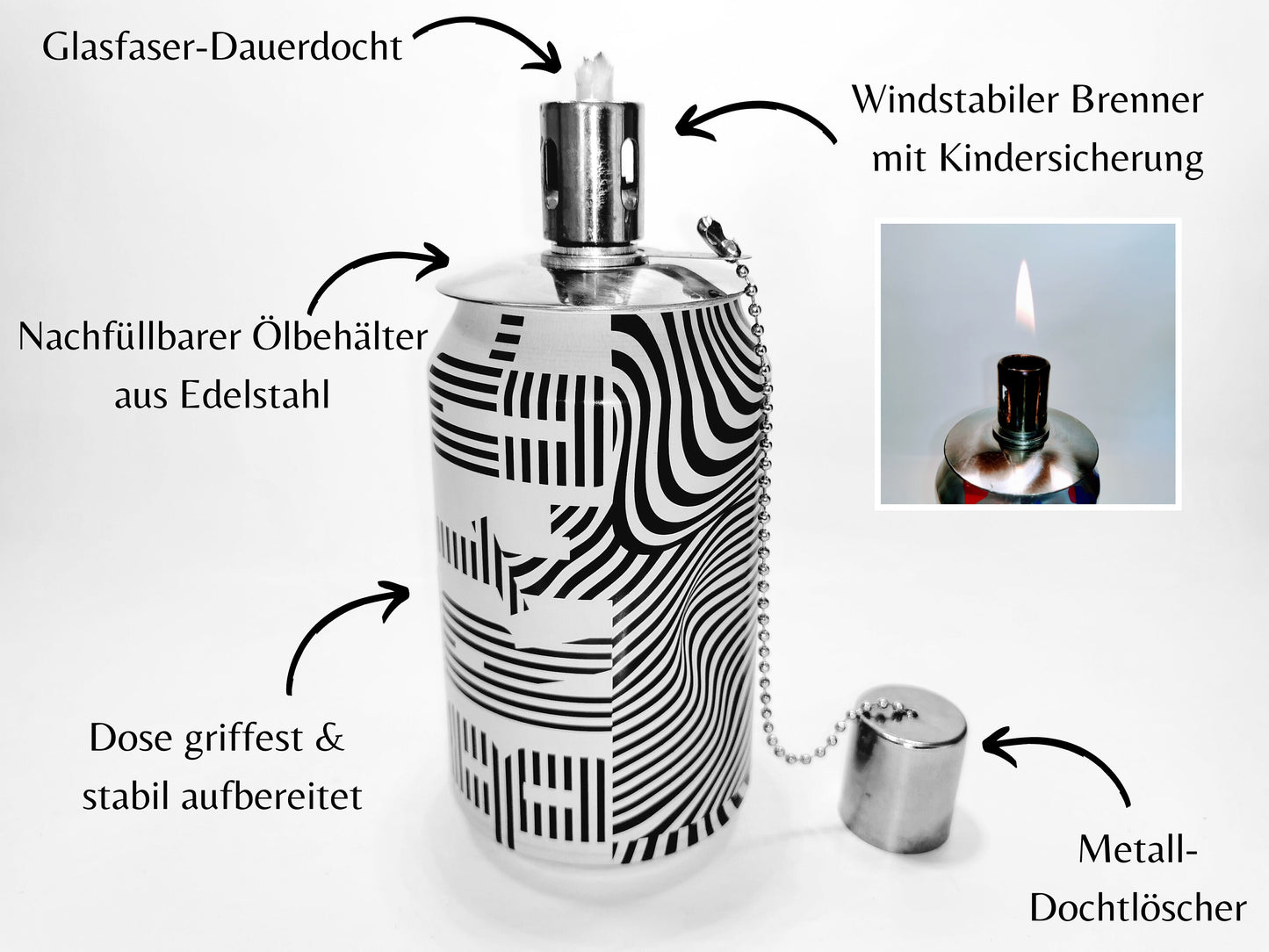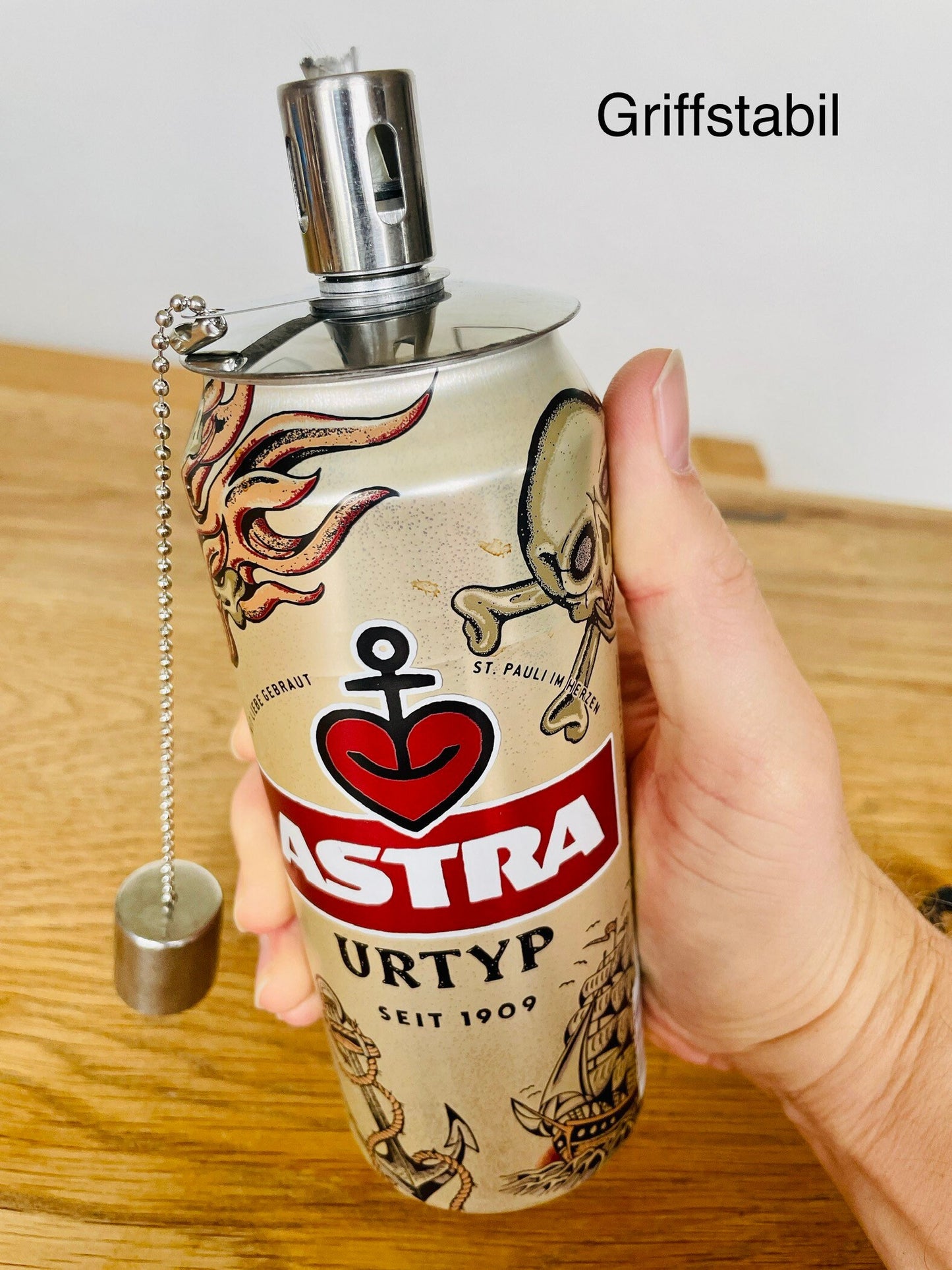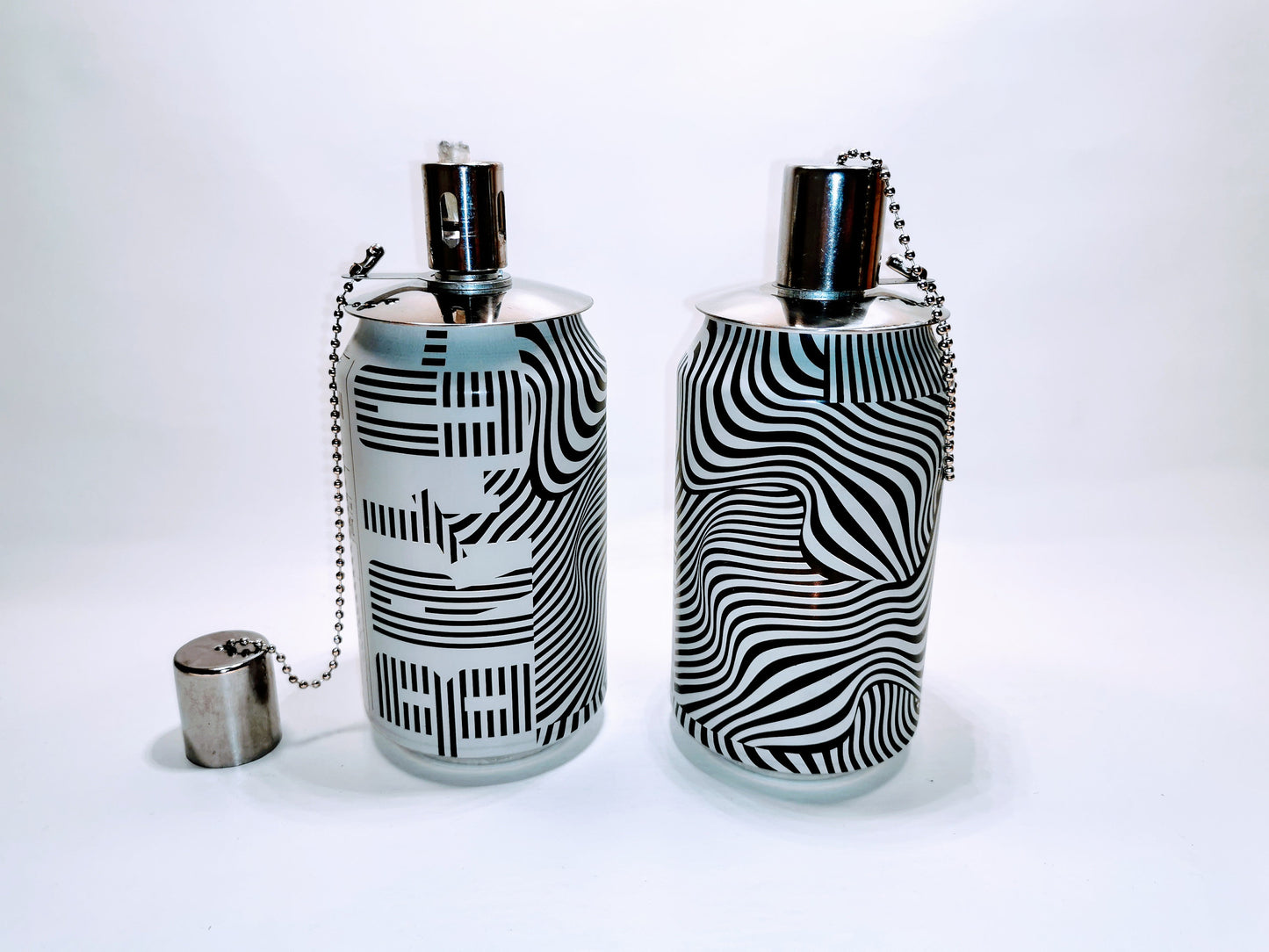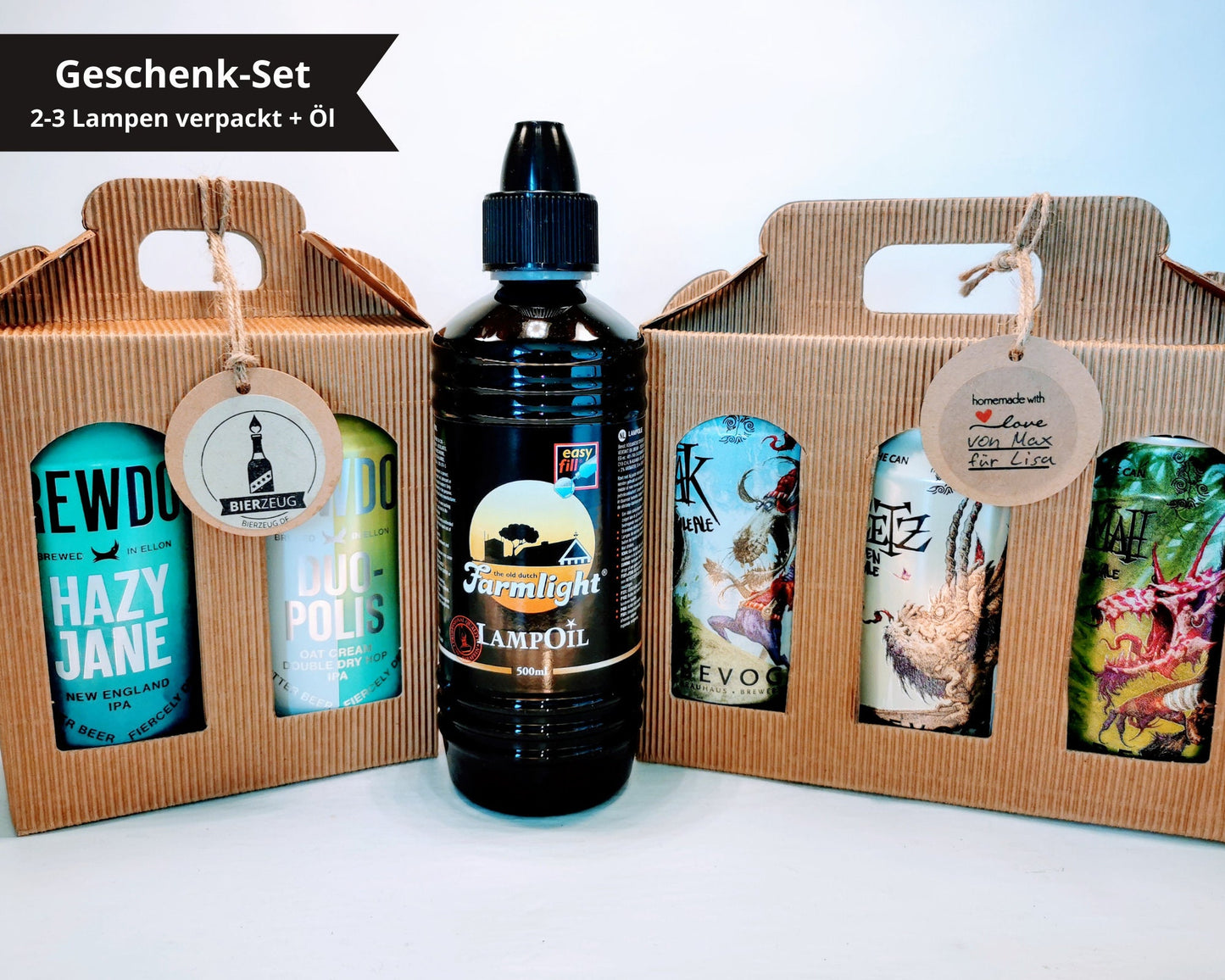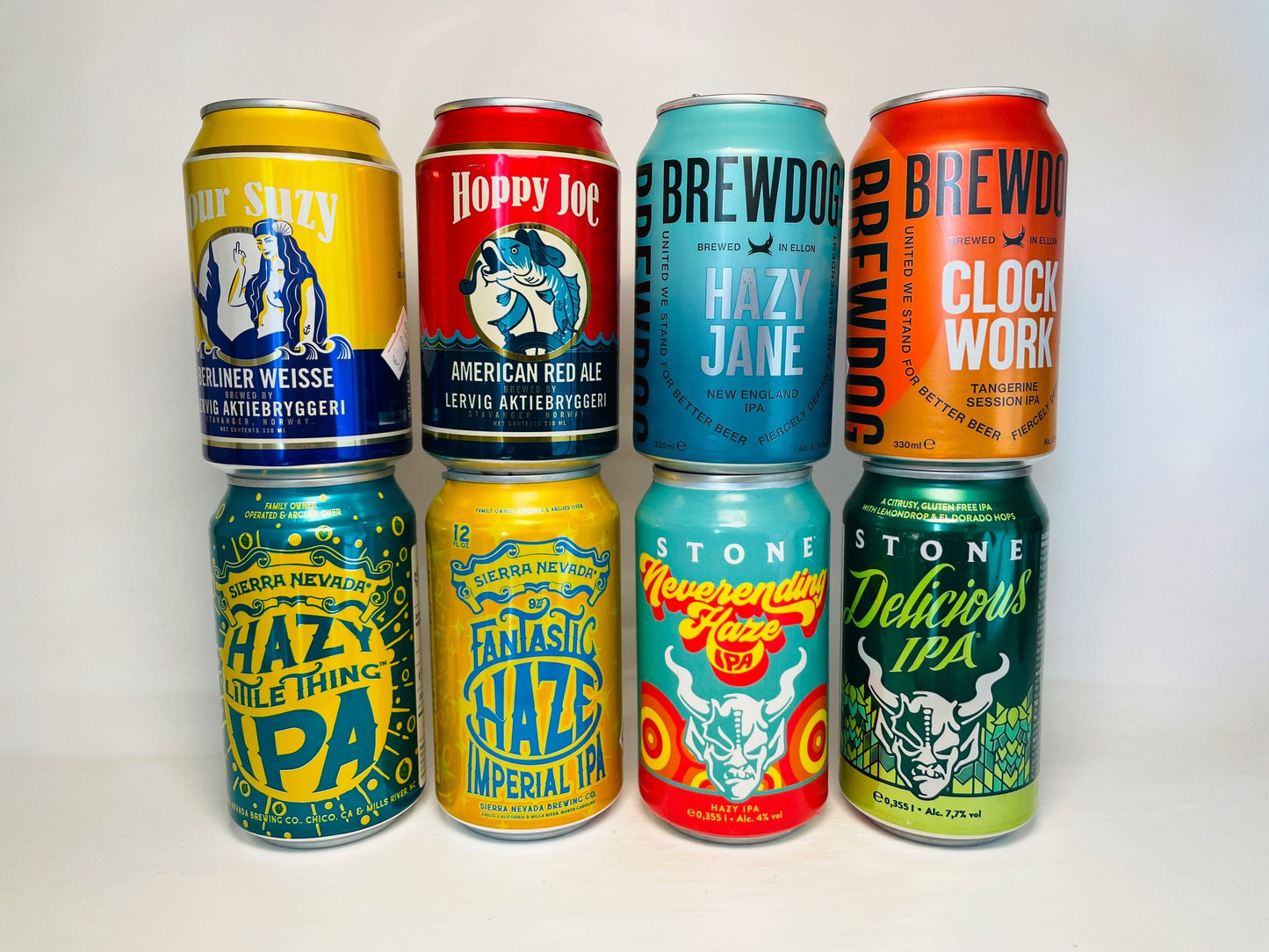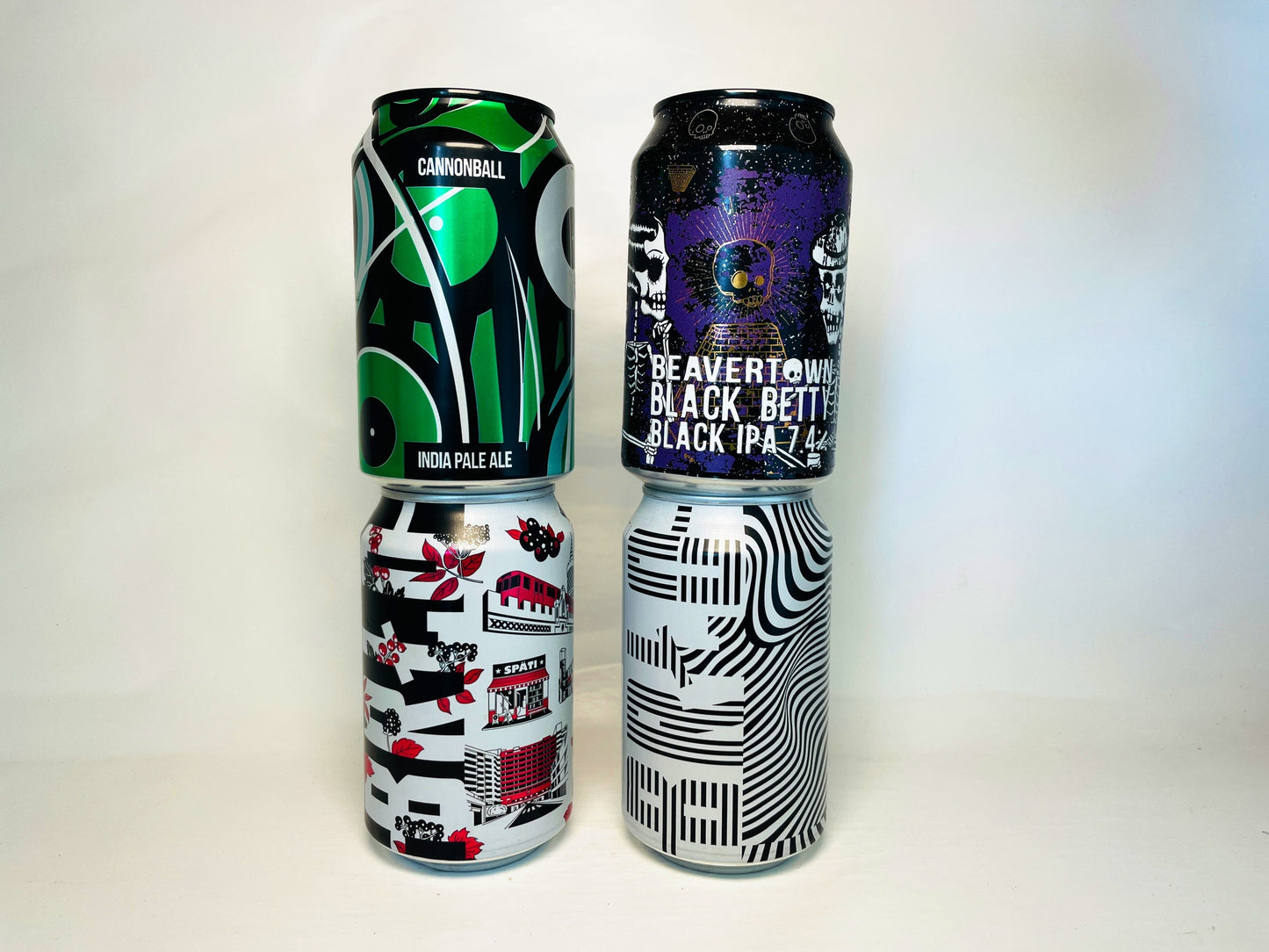 Versandkostenfrei ab 69€

Ab 69€ Bestellwert versandkostenfrei in Deutschland.

Klimafreundlicher Versand

Versand in Recycling Verpackung CO2-neutral mit DHL GoGreen.
Ich bin absolut begeistert von den bunten...
Ich bin absolut begeistert von den bunten Dosen! Es lief alles unkompliziert und die Ware kam superschnell bei mir an!